The Indaba

The inaugural PtD Global Indaba was held in October 2022 in Lusaka Zambia and was the first conference on human resources (HR) for supply chain management (SCM) to take place in Africa. This first edition of the conference was such a success – with over 250 participants in attendance – we're making the Global Indaba a regular date in your diary.
Twenty years ago, when the SARS outbreak exposed key fragilities in the global healthcare supply chain, pandemic preparedness became a key concern among practitioners. In 2023, following the COVID-19 pandemic, many of the same supply-chain fragilities remain. As we rebuild and develop our health systems we must ensure that health supply chains – and the people that run them – are better prepared and equipped to withstand future crises.
The People that Deliver (PtD) Global Indaba is a global conference dedicated to human resources (HR) for supply chain management (SCM). The people running health supply chains (SCs) – the SC workforce – are often overlooked but are so critical to health systems; the Global Indaba puts the spotlight on the essential role these workers play in providing populations access to health commodities and saving lives, and is aimed at supporting them.
There is growing consensus that health outcomes in low- and middle-income countries (LMICs) will only continue to improve if the capacity and skills of the health SC workforce are developed. Alongside this recognition is an understanding that investments will be needed to ensure that health systems are equipped to expand access to health supplies and services in both development and emergency contexts.
The World Health Organisation (WHO) estimates that the health workforce deficit stands at no less than 8 million in Asia and 6 million in Africa. At the same time, in many LMICs SCM is not professionalised: this means there is little recognition that technical skills are necessary to perform supply chain management tasks.
The PtD Global Indaba, though, is a conference with professionalisation at its heart. This is why it is organised along the four pathways of PtD's Theory of Change: staffing, skills, motivation and working conditions: the four elements necessary for a fit-for-purpose supply chain workforce.
The conference brings so many health supply chain partners together, offering a space for countries, donor agencies and other development partners – public and private – to present and share experiences and the knowledge generated in this area in recent years. It supports coordination among the various development players, capturing best practices and models, and identifying opportunities to leverage expertise.
Above all, through presentations, panel discussions, workshops and networking opportunities, the exchanges offered by the Global Indaba will help governments to plan, finance, develop, support and retain the national workforces needed for the effective, efficient and sustainable management of health supply chains.
Click here for more information about PtD.
What in the world is an Indaba?
Indaba is a word in the Zulu language that means "gathering" or "discussion." An eclectic event deserves a unique name, which is why we chose to call this event an "Indaba."
Who is organising the Global Indaba?
The Global Indaba is organised by People that Deliver with support from the International Association of Public Health Logisticians, Mahidol University, Management Sciences for Health, Pharmaceutical Systems Africa and Upavon Management.
What are the objectives of the PtD Global Indaba?
Unearth human resources for health supply chain management (HR for SCM) interventions that maximise supply chain performance and improve access to health commodities.
Promote the south-to-south knowledge exchange and peer-to-peer (country-to-country) learning.
Offer a platform for dialogue and collaboration between countries, academic institutions, donor agencies, private sector entities and other development partners.
Learn about private sector approaches to HR for SCM.
Challenge countries to formulate the next steps required to ensure conducive working conditions and properly, staff, skill and motivate the health supply chain workforce.
Who is the Global Indaba for?
Health supply chain managers and professionals or anyone in the public or private health supply chain looking to strengthen their workforce. This might include government agencies, public and private sector health supply chain organisations, donor and multilateral organisations, professional associations, academic institutions, country registration bodies and non-governmental organisations. Although this year's conference will be held in Thailand, we will focus on supply chain workforce challenges and solutions in low-and -middle income country contexts globally.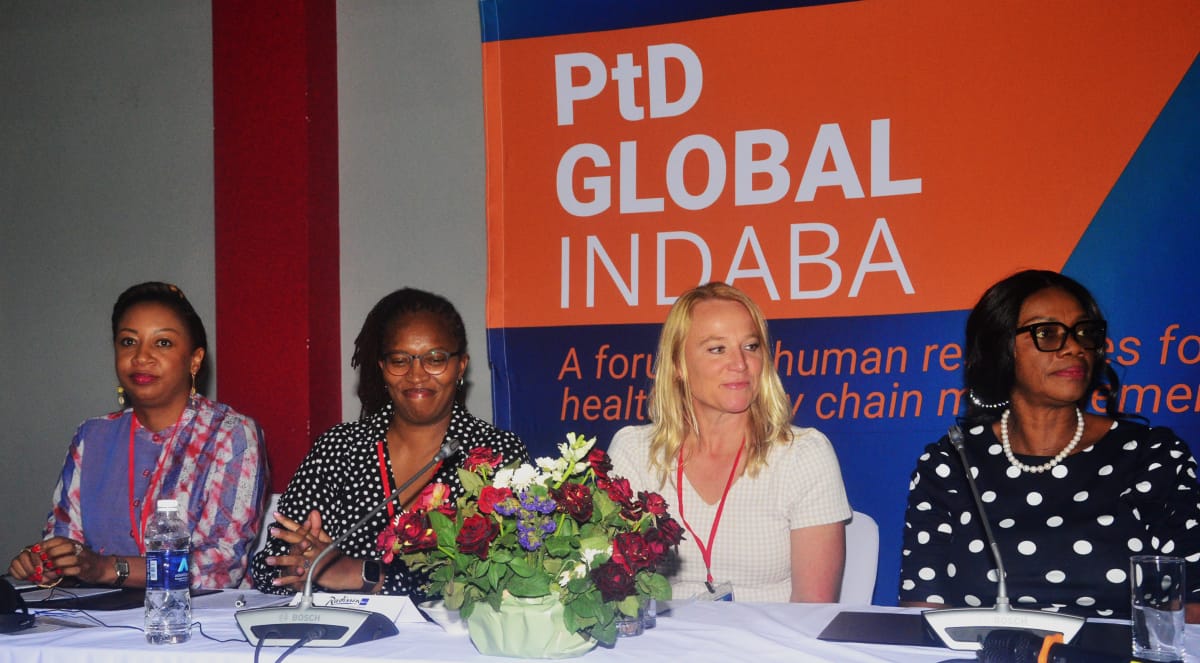 The PtD Indaba couldn't have come at a better time when global supply chains had been shaken to the core but they came out on top because of people that delivered.
– Tewuh Fomunyam, Health Systems Strengthening Regional Coordinator, Nurse